Have you been thinking of adding a shed with a porch to your home? Maybe you'd like to update your existing shed by adding a porch. Upgrading your storage shed/porch combo is an easy way to add function and utility to your outdoor space.
Not only that but adding a porch to your storage shed isn't an expensive endeavor. According to Mark Jenkins, of ShedDrafts, a leader in storage shed building plans, adding a porch to your storage shed only costs $23 to $50 per square foot depending on materials used.
Need some inspiration for your next project? Here are seven storage sheds with porch design ideas you'll love.
1. Guest House
It may sound unconventional to host guests in a "shed," but you'd be surprised how a few upgrades can turn a conventional shed into comfortable guest quarters. Adding a murphy bed, couch, kitchenette, and a few other essentials is all you'll need to create an inviting space for guests.
Even if it's on the smaller side, guests appreciate having their own private space to retreat to at the end of the day. With a porch, they'll also be able to enjoy morning coffee or an evening glass of wine outdoors.
2. Morning Coffee
Have you always wanted a nice place to enjoy your morning cup of coffee outdoors? A shed with a porch can offer the perfect solution.
With just a few pieces of furniture and some minor design upgrades, you can create an ideal coffee oasis while also improving the look of your shed.
All you need is a few sitting chairs and a table to make the space functional. Furnishing the porch can be a fun DIY project that allows you to personalize the space and add your own unique flair. Finish it off with a few plants or even an outdoor lamp!
3. Hobby Space
If your hobby is taking up too much space in your home, you may want to consider using an outdoor shed with a porch for your new hobby space. Sheds offer plenty of space and storage for almost any hobby. From puzzles to knitting to painting, it is easy to transform a shed into your personal hobby space.
Turning your shed into a permanent hobby space can also save you time since you won't be taking out and putting away hobby supplies constantly. The porch allows you to take your hobby space from indoors to outdoors, offering you more space, as well as a place to get fresh air and take a break.
You can use the porch to enjoy an afternoon lunch, dry a painting, or just spread out.
4. Garden Shed
Many homeowners think of a garden shed as a place to store tools, seeds, fertilizer, and other materials. But it can be so much more! With a little bit of work, you can transform your traditional shed into a highly functional and versatile space.
Consider installing a ramp to easily load and unload mulch or adding an indoor workbench to make working on projects more comfortable. Outside, you can set up a set of rocking chairs to enjoy the view.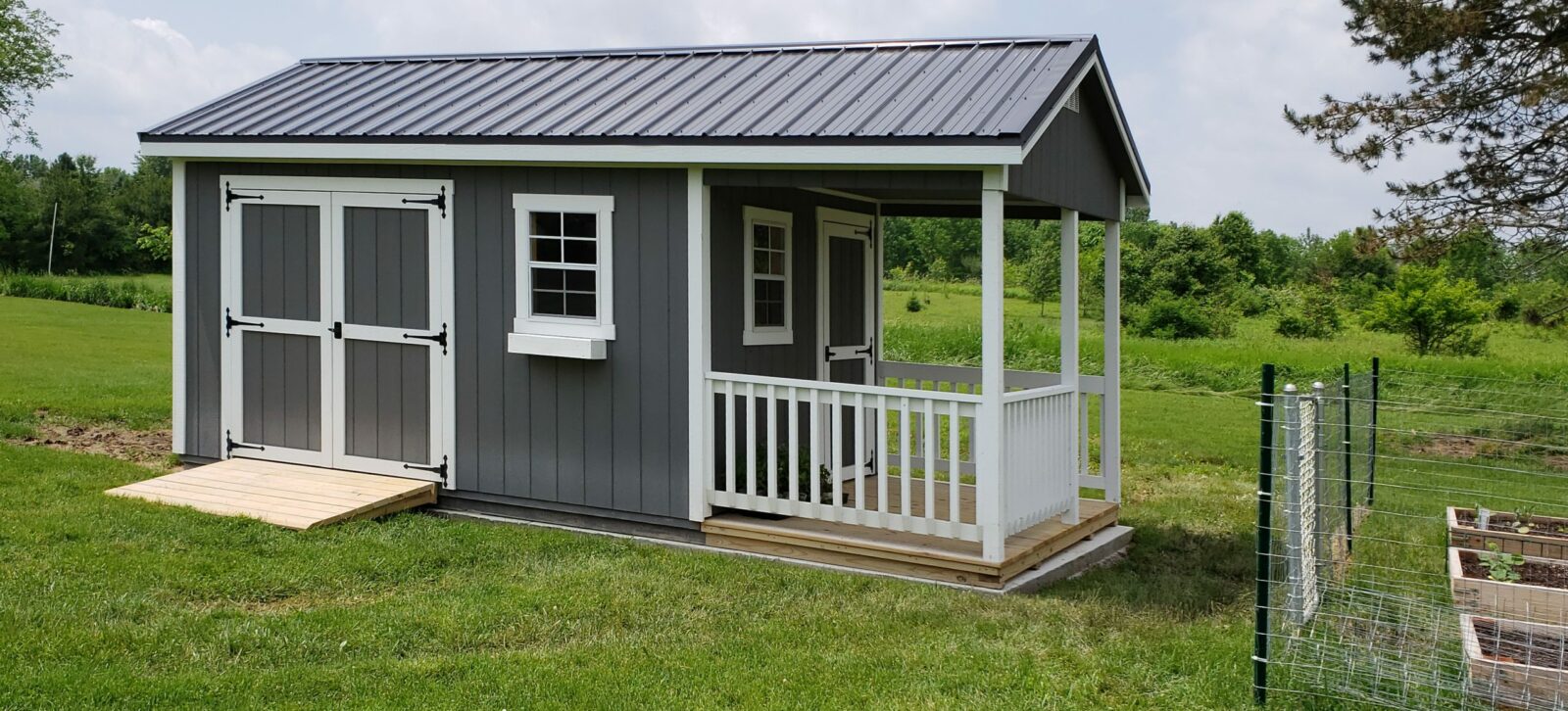 5. Den Hangout
If you are running out of personal space to relax in your home, a shed with a porch can offer a great solution. With a bit of work over a weekend, you can hook up your shed with power and bring out a TV, games—even a mini-fridge.
Having extra space to enjoy the peace and quiet can benefit the whole family. Hang out with the whole gang on the porch, where you can enjoy the yard and fresh air. Consider adding a fresh coat of paint to make the space feel comfortable.
6. Playhouse
Sheds are also a wonderful place for kids to play and get their imaginations running. Kids can make great memories in an indoor/outdoor playhouse that gives them their own space.
When it comes to playhouse design, the options are endless. Consider adding fun paint colors or pops of color to kids' furniture. You can even have a theme—like space or sports—to personalize the space. A playhouse shed can also offer functional storage for toys, which has the added benefit of decluttering your home.
7. Tiny Home Shed
The tiny home trend is far from over, and you'd be surprised how much utility you can get out of a small shed space. A shed can offer everything one or two people may need out of a home—from lofted beds to creative storage solutions.
Whether you choose to keep the tiny home for guests or rent it to a neighbor, it can be a great addition to your property.
Adding a porch to a tiny house/shed adds a welcoming touch that will make it feel homier. It also provides a great outdoor relaxing space. Consider installing intricate porch banisters or hanging flower pots to make the space unique.
These are just a few design ideas for sheds with a porch. With a bit of imagination and design experience, the possibilities are truly endless.